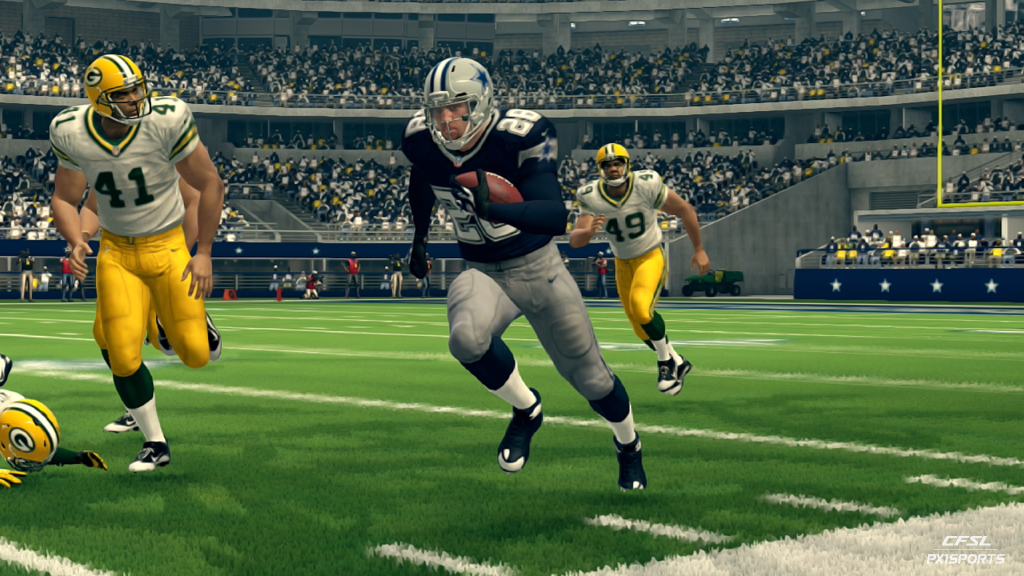 The CFSL Pro League returned with season two after a brief hiatus and immediately lived up to the hype, featuring a second straight perfect regular season for Clutch and the Cowboys, a late season collapse in Pittsburgh that just saw the Steelers sneak into the playoffs, as well as a three way tie for the final wildcard spot in the West. And of course the championship game will live on for years to come following a last minute gaffe by League MVP, Vidar Lund, paving the way for the Leej and the Green Bay Packers to pick up their first title. Now as the teams around the league gear up for season 3 RustyFilms and Jbayse1 take a moment to point out something to be on the lookout for with each team.
East: RustyFilms
Baltimore Ravens
Last Season: 4-4
Week 1 Opponent: Chicago Bears
After establishing themselves as one of the better defenses in the Eastern Conference, it was interesting to see if the Ravens would keep QB Moon for another season or try to add a weapon for him. Instead, they decided to add to this already strong defense and picked up CB Puma Longtree, becoming the third Longtree brother to be drafted. The Ravens were in contention last season, and it will be interesting to see if they can knock off their rival Steelers and secure their first ever playoff appearance. Look to see them be a running focus team that leans on their defense.
New England Patriots
Last season: 2-6
Week 1 Opponent: Miami Dolphins
After a strong season 1, season 2 was a drop off. However, their front office was busy making several trades and securing the first two picks of the Season 3 draft. Having given up the 2nd most points in the league, they decided to shore up their defense, drafting DE Berto Demoura and CB Sean Flowerday number 1 and 2 respectively. They weren't done there, adding DT Buck Malone in the second round. Now, they needed to address their offense, and added stud WR Ethan Martin. I think the Patriots had a very strong draft and I look to see big improvements from their defense. What's scary is how many picks they have for the future, perhaps they will look to bring in a super star early? It'll be interesting to see if QB Axton Richardson can put it together and lead the Patriots to their first ever playoff appearance.
New York Giants
Last season: 4-4
Week 1 Opponent: Pittsburgh Steelers
The Giants just barely missed the playoffs. A Steelers loss in week 8 would have secured it for them. However, like the Patriots, they were busy in the off season and managed to secure the 5th and 9th picks in the first round. There they found their quarterback of the future in Lyles Fletcher and gave him a superstar wide receiver in 'Smoking' Joe Idol. Now that's a combo! The Giants already had a top 5 offense, and it'll be very interesting to see if the rookie QB can continue that and bring the Giants to the promised land. Week 1 they will get to host the Pittsburgh Steelers, having given them their only conference loss last season. I'm sure there is some frustration in New York for the Steelers still being the cause of them missing the playoffs. Should be an exciting matchup!
New York Jets.
Last season: 2-6
Week 1 Opponent: At Philadelphia Eagles
The Jets are still rebuilding, and their GM knows it. That being said they made some significant moves in the offseason, bringing in DT Dillon LeBlanc with the 4th overall pick, and LB Allie Peters with the 11th. Defense was definitely the focus this draft, but they did take QB Clayton Denny in the second round, which was an interesting choice considering Ronnie Blevins and Courtney Harris was still on the board. That being said, Denny fits their system but will have a tall task having to replace Ray Tatum, something he had to do back when he started college at Texas. The Jets have a plan and I'm interested to see if Denny turns out the way they hope.
Pittsburgh Steelers
Last season: 5-3 (Lost in Semi-Finals)
Week 1 Opponent: At New York Giants
The Pittsburgh Steelers made their first ever playoff appearance despite having a negative point difference. They ran through the East, going 4-1,, but unfortunately lost in a shootout to the eventual champion Green Bay Packers. The season was still a success and they look to take the next step. They didn't have a pick until the late second round but added elite TE Blakey Radloff, and then added some defensive players late in the draft. The Steelers will look to keep improving and build upon their last season. They will get a chance to avenge their only conference loss when they visit the New York Giants.
Miami Dolphins
Last Season: 2-6
Week 1 Opponent: At New England Patriots
The Miami Dolphins had a dreadful season, having a bottom three offense and the second worse defense in the entire league. However, like much of the East, they got busy in the offseason and made a massive trade with their rivals, the New York Jets. They traded 2 first round picks and 2 second round picks for the college standout Ray Tatum. This was a dramatic trade and is clearly what to be on the look for week 1. Can Tatum bounce back from his miserable time in New York and lead South Beach back to the playoffs? There's a lot of work to be done, did the Dolphins make enough moves?
West: Jbayse1
Chicago Bears
Last Season: 5-3
Week 1 Opponent: At Baltimore Ravens
Last season was a bit of a step back for the season 1 champion Chicago Bears, which ultimately cost QB Griffin Jelkic his job. The Bears front office instead chose to explore the market giving up a mid round pick and a future fifth rounder to acquire former Oregon Duck, Jefferson Allen, for the starting role. On the bright side for season three, Chicago boasts one of, if not the best front 7 in the league, highlighted by former collegiate stars such as: David Ware, Cory Dobbins, and Michael Rury. Can Chi-Town right the ship behind a strong defensive unit and a new QB to deliver a second title to the city?
Dallas Cowboys
Last Season: 8-0 (Lost in Championship Game)
Week 1 Opponent: At Green Bay Packers
A second straight undefeated season for Clutch and the Cowboys led to a second straight playoff heartbreak for Cowboys fans. This time the pain was even worse as the Cowboys had the title in their hands before a questionable play call and an untimely fumble by league MVP Vidar Lund ended the dream. Dallas had one of the better draft nights picking up future superstars such as Dan Norris, CJ Freeman, and Jacorey Henderson. Heading into season three Clutch has his Cowboys looking like the team to beat once again, but the question prevails: can Dallas get past their own play calling and win that elusive title?
Green Bay Packers
Last Season: 6-2 (Won Pro Championship)
Week 1 Opponent: Dallas Cowboys
Last season ended as the Packers pulled off one of the most improbable comebacks in league history. Not content to sit on their laurels, Green Bay had a quiet but productive offseason. Spending first and second round picks on former CFSL Stars LB Roderick Boston and WR Vincent McCoy help make sure Leej and the Packers are once again in the title conversation. Week one will bring a rematch of last seasons title game, and will serve as a good measuring stick as to if Green Bay can repeat in Season three.
New Orleans Saints
Last Season: 5-3 (Loss in Semi-Finals)
Week 1 Opponent: At Seattle Seahawks
Last season New Orleans was part of a trio of west teams to go five and three. The Saints ended up as the winners of the final playoff spot based on conference record which pitted them against the seeming juggernaut that is the Dallas Cowboys. Heading into the off season the Saints management wanted to make moves to keep them competitive in this strong west division, and they did just that. New GM Dobbins used his early draft stock to grab LB Sean Moore JR and WR Zach Stone before pulling off a steal of QB Ronnie Blevins in the Third round. The New Kids in Nola look to form a great chemistry early on and prove that last season's success can be repeated under a new regime.
Philadelphia Eagles
Last Season: 5-3
Week 1 Opponent: New York Jets
The Philadelphia Eagles were the final piece of a closely contested race for the final wild card spot last season falling just short of the mark. This season they look to be one of the most interesting teams on paper bringing not one but two QBs into the regular season. All eyes will be on Scott Fountain and Courtney Harris as they battle for the QB 1 spot, however, don't focus all of your attention there as the Eagles also brought in DT William Huddleston and TE James Bayse to help take the next step. If it was enough to separate themselves from a crowded West Division remains to be seen.
Seattle Seahawks
Last Season: 1-7
Week 1 Opponent: New Orleans Saints
Season two was not kind to the Seattle Seahawks, finishing with an abysmal one and seven record. However, new GM Scally plans on turning the tide and allowing these hawks to soar again. To help see his vision through the Seahawks turned to former Alabama star and record holder Doug Day. They also snagged future franchise pieces such as Manuel Silva and Royce Anderson Jr in the draft. This ensures Seattle will have a plethora of stars at key positions deep into the future. After looking at last season there is nowhere for this Seahawks team to go but up, so any movement toward the top of the conference would be a successful season in year one under new management.