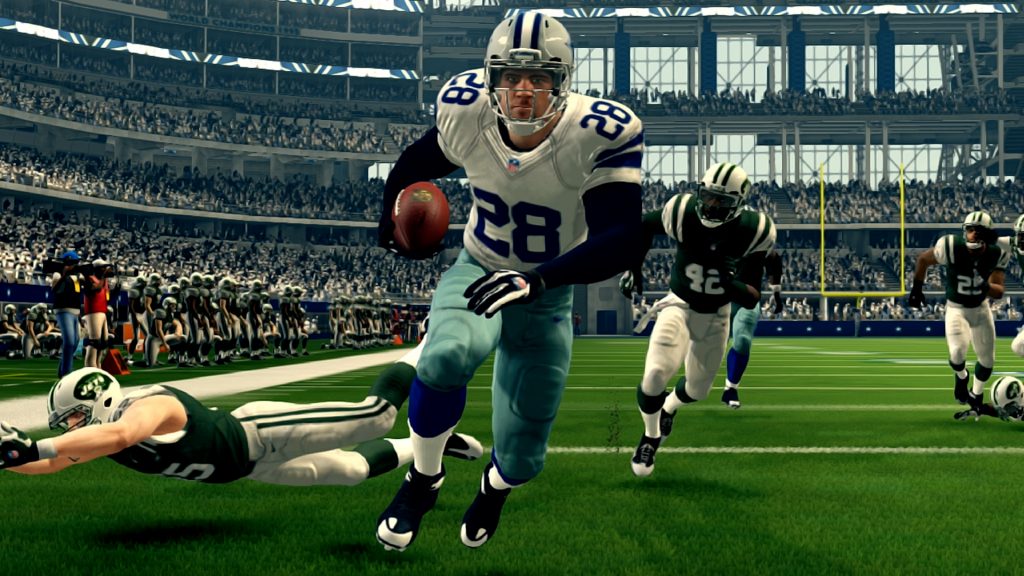 by Rusty Fields

Season 1 of the Pro League is near an end, a fantastic time where we got to see CFSL legends of old return to the gridiron. So, what better time than now to look to the playoffs and see who's in and who's out?
The inaugural Pro League playoffs will feature four teams; the two division winners and then two wildcards (regardless of division). There are several different scenarios that can play out to determine who gets in, starting with overall record, then head to head, then conference record.
How bout them Cowboys!?
The Dallas Cowboys are the only lock to make the playoffs with a 7-0 record led by their star running back Vidar Lund. The Cowboys have the number one offense in scoring with a total of 315 points scored. They are far ahead of the next team, the Seattle Seahawks, who are 2nd in scoring at 246. For any mathematicians that is a whopping 69 point difference! Very nice.
Eastbound and Down
The East division had a disappointing season overall, four teams having losing records. However, at the top they are led by the New England Patriots (5-2) carried by a strong defense featuring players like Cletus Castle and Juan Cantu. They struggled in their out of conference play, going 1-2, losing to the Green Bay Packers (keep an eye on this one) and New Orleans Saints. However, since then they have gone 4-0 in division play, putting themselves in a very good position to win the East, just one one problem…
Fins Up
The other team with a winning record in the East is no shark but the Miami Dolphins! They put together a 4-3 record behind the great play of QB Matthias St John. The Dolphins were another team that struggled early, having an 0-2 start before going on a 4-0 tear. Unfortunately for them, they ran into some Moon magic and lost a heartbreaker in Baltimore 41-38.
For the Dolphins and Patriots, everything comes down to tonight. Whoever wins at 5pm central on the PX1 Sports YouTube page will be the first ever East Division champs and guaranteed into the playoffs. After that things get messy.
Wildcards
Now, in the West the Cowboys are number 1. That number 2 spot is in a tie with a scenario you love to see. The mighty Chicago Bears and the incredible Green Bay Packers are tied at 5-2, both with 3-1 conference records. Whoever wins this matchup is promised a wildcard spot, the runner up will have some hoops to jump through. By the time the teams take the field they will know the outcome of the Dolphins-Patriots game, but I know both teams don't care. It's simple, win and in.
This is where the fun begins
So, Cowboys, Pats/Dolphins winner, Bears/Packers winner are all in. Who gets that final spot? Time to run through some scenarios!
Scenario 1: Dolphins lose:
To make things simple, if the Dolphins lose, they are completely out as they'll have a 4-4 record, less than the potential 5-3 of the east runner ups.
Scenario 2: Dolphins win, Bears win:
In this case, the Packers and Patriots are both 5-3. But if you remember the Patriots lost to the Packers way back on February 13th, week 1 of the Pro League. In a game where Green Bay won 24-17 due to a very balanced and clean offense, having no turnovers, they were able to come away victorious. Therefore, because of week 1, the Packers will be in. Every week truly matters in this league!
Scenario 3: Dolphins win, Packers win (yuck):
Here are where things get even more interesting. The Bears and Pats would have the same record but no head to head matchup. Here is where the Patriots division play comes clutch, as they would have a 4-1 record compared to the Bears 3-2. The Monsters of the Midway would be on the outside looking in with this scenario, a curse if you ask me. Bears were pummeled by the Cowboys in week 5, 42-21, giving them their worst loss and the Cowboys biggest win. If unable to get to the playoffs, you know the Bears will be looking to use their numerous draft picks to build stronger.
Predictions
To add some spice I decided to make some predictions so people can laugh at me later.
Ultimately, I think the Pats defense and Jose Bueno's efficient QB play can carry them over the Dolphins. It is going to be a battle, I expect several lead changes and the game ending in one score.
Patriots 34-27
Now, the battle in Chicago. The Packers have been a quiet team but have very good chemistry with QB Will Slay and HB Frost Carlson. Slay's dual threat ability has won them many games, and has a surprisingly good connection with former Wolverine Trey Greer, who leads the team in catches, yards, and touchdowns, even with a notable WR Wayne Carter. All this being said, Slay has kept them in games, but they're 2nd to last in scoring, their defense is their strength, as they are the number 1 defense in points allowed. Led by a strong linebacker corps and impressive secondary, especially safety Cai Brummer. Now, their enemy, Chicago, comes in with a similar position. Quarterback Griffin Jelkic has got the team tied to be the 4th worst offense in scoring, but they have been saved by their defense led by players like MLB Justin Thyme, S Digger Graves, and DE Claevon Buckalew. So after giving a breakdown of these teams, I would have to predict a low scoring, hard defense affair, and both teams would love it.
Bears 17-14
So, to end, this final week will be an exciting one, two teams are safe, Cowboys and Packers, but the fates of the Bears, Patriots, and Dolphins hang in the balance as only two of them can get in. Thank you for reading, it has been a pleasure to research and write for this. I'm out!